Smart Cookie: Class Creation for Cookie Decorators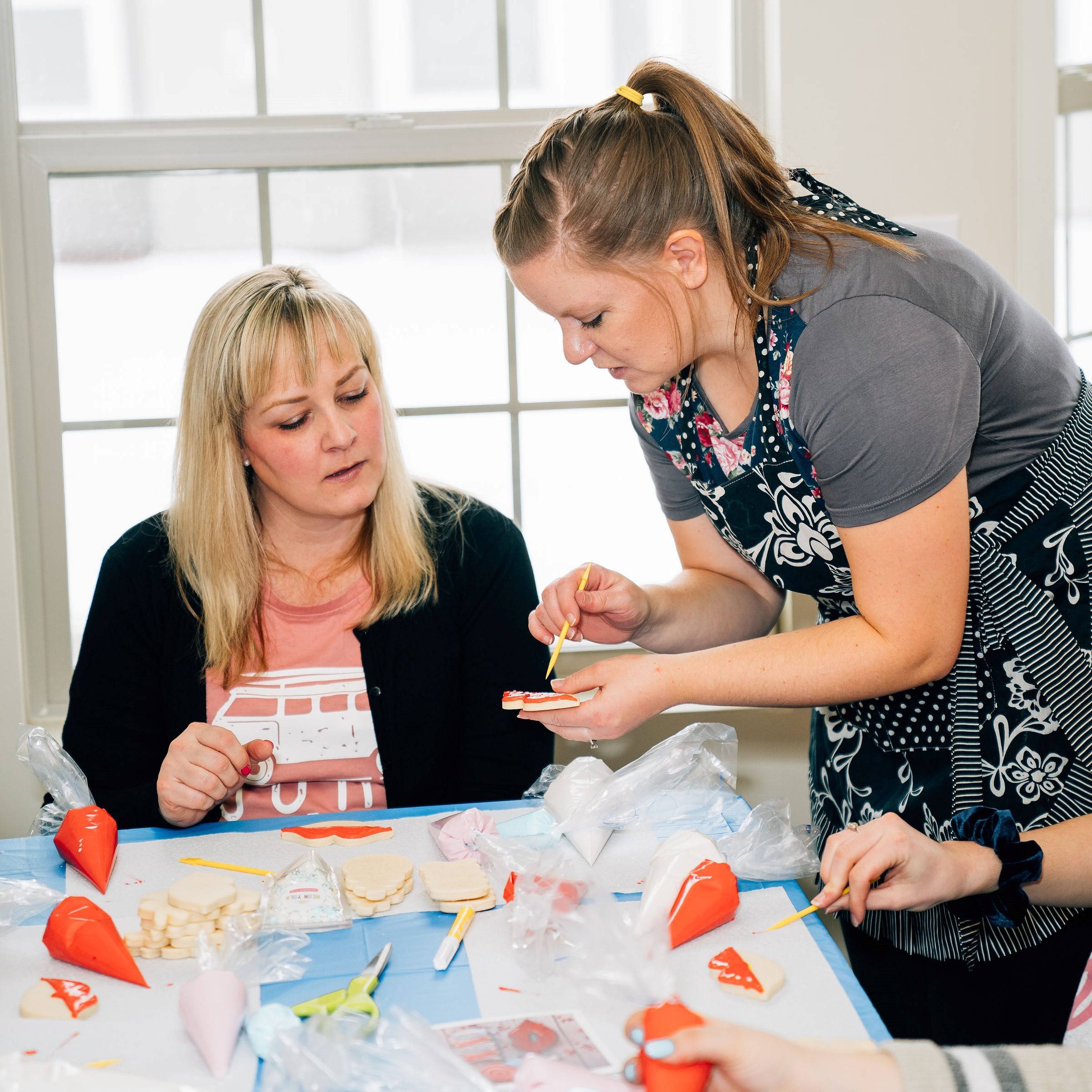 Smart Cookie: Class Creation for Cookie Decorators
Double your income with less work by teaching your first cookie decorating class.
Are you tired of selling cookies and barely making minimum wage? Do you want to share your joy of cookie decorating but feel overwhelmed by the process of planning your first cookie class? Are you nervous that you'll go through all the work of setting up a class only to have no one show?

Smart Cookie is designed to walk you step-by-step through planning and teaching your first cookie decorating class with confidence while doubling your income. 

Creating your first class can be stressful.
I get it! I was asked to teach my first decorating class after I had decorated just 3 cookie sets.
And it was a MESS!
I was so stressed, there was icing everywhere, I ran out of icing (eek!), and forgot some critical supplies. I struggled to manage the class and balance fast decorators with those who wanted to take more time. 
Planning and teaching a class takes organization and preparation. When you're doing it on your own, there are so many new logistics to sort out, it feels overwhelming to even start. 
Smart Cookie is designed to walk you through each and every step for planning and teaching your first cookie decorating course.
 From cookie design, venues, preparation, pricing, marketing, and managing a classroom of students, I've got you covered to make your first class a success without the overwhelm!
I've spent the last year teaching sold out classes and booking classes 3 months out to accommodate the demand. I was completely on my own and learning through my many mistakes.
 Classes became my sole source of income from cookies because I enjoyed teaching, sharing my love of cookie decorating, and bringing in more money with less work.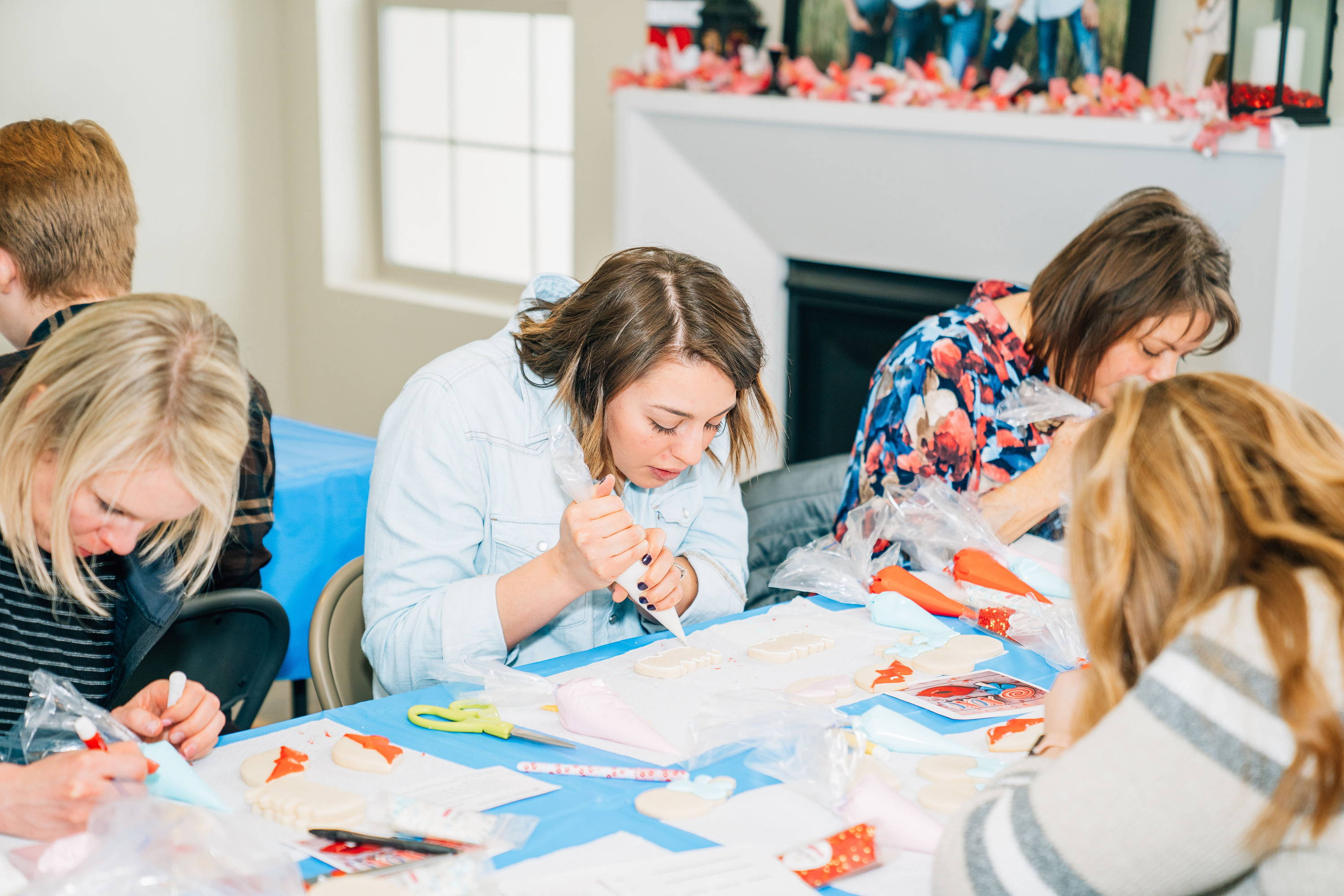 You don't need to make the same mistakes I did.
I want to pass everything I've learned about teaching smooth and successful cookie decorating classes on to you! 
You can easily bring in $400 or more from one class with about 6 hours of work. 
Smart Cookie: Class Creation for Cookie Decorators is designed to help you:
Gain the confidence you need to teach your first cookie decorating class

Plan the logistics of your class in an organized, methodical way

Design cookie sets to delight your students while they learn

Obtain additional cookie orders and class bookings
This course is for you if you've decorated at least 10 cookie sets and have seen improvement (even small improvement) with them, you feel comfortable making cookies and icing at the appropriate consistencies, and you're ready (even if you're nervous!) to plan and teach your first decorating class. 
When you enroll, you'll get access to:
A step-by-step process for all class logistics. $97 value

A process for developing cookie designs and class itinerary that works best for you. $49 value

3 group coaching calls where you can ask any questions and work with me directly through any class issues that creep up. $175 value

A marketing blueprint to sell out your classes. $147 value

Cookie Class Planning Sheets. $20 value

Email support throughout the six weeks. $120 value

A model for back end sales to increase your revenue at each class. $97 value

Community support in our private Facebook group. $49 value
Sign up for the first class by July 3rd and only pay $47.
Step-by-step blueprint for running your class virtually - Perfect for our current Covid-19 environment! $65 value

Your class web link and details added to Sugarstar's new Cookie Class Directory & receive free marketing. This directory is designed to funnel new clients to your class sales page each month and help you gain new clients. $120 annual value
Take a peak at what we'll be doing together:
The first cohort will begin on Monday, June 22nd. Each module will be released inside the community on Mondays. Coaching calls will take place on Thursdays at 7pm MST. The coaching calls are recorded and added to the community. You'll have lifetime access to the course and all future updates to the course.
Remove any mental blocks preventing you from teaching your first class.

Nail down your class logistics - dates, times, venues, pricing, class size and more.

Set up your class sign up process.

Coaching call #1 - Thursday, June 25th @7PM MST
Design a cookie set for your class.

Create your class itinerary.

Order class supplies. I'll tell you exactly what you need.

Choose extras to delight your students.

Coaching call #2 - Thursday, July 2nd @ 7PM MST
Marketing essentials for selling tickets to your class.

Set up email marketing for your personal & cookie networks.

Set up social media ads to bring in new customers.

Coaching call #3 - Thursday, July 9th @ 7PM MST

Additional week for catch up and to allow time for marketing your class.
Class preparation overview & planning.

Get valuable feedback and testimonials.

Utilizing back-end sales to increase revenue.
Frequently Asked Questions
1. I'm already booked with cookie orders. Will I even have time for this? 
Going through the course and doing the homework will take about 2 hours a week. Coaching calls will be at least 30 minutes but will last as long as necessary to answer everyone's questions. 
2. What if I can't make it to the live coaching calls? 
Attending the coaching calls live is the best option; however, I know life happens and it may not be possible. The coaching calls will be recorded and added to the course so you can listen at any time. If you have questions you'd like answered during the call, you may email them to info@sweetsugarstar.com up until the day before the next scheduled call. 
3. How do I get help during the program if I get stuck? 
Jumping on the live coaching calls is the best way to walk through any issues you encounter as you plan your first class. You'll also have 24/7 email support through the length of the course and access to the private Facebook group for community support. 
4. I can't pay the full amount at once. Is there a payment plan available? 
Yes, please email me at info@sweetsugarstar.com to set up a payment plan of $57.25 per month over four months. There is no payment plan for the initial enrollees. Initial enrollees are those who sign up by June 19th for $47.
5. What if it doesn't work for me? 
I understand it can be scary to invest in a high quality online course. I expect you to make a diligent effort to participate fully in the course and take action as directed in the homework (after all, you won't get results if you don't do the work!). However, if you aren't fully satisfied, I will be happy to provide a full refund. Please contact me at info@sweetsugarstar.com to start the refund process.
6. Are any additional expenses involved in setting up my cookie class? 
Yes. Teaching cookie decorating classes requires a few supplies as well as the ingredients for cookies and icing. I'll walk you through exactly what you need to teach a class as well as any extra items you may want but are not mandatory to teach a class. You may also need to pay for a venue; however, I'll cover options for cheap and free venue options for your class. Sales from your first class should fully cover all your expenses and the cost of this course. All additional classes will give you a very healthy profit margin.